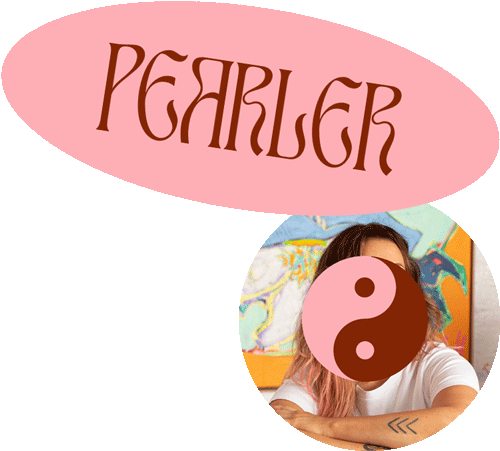 More than just a Fancy Af Shopify theme
Shopify builds don't have to be such a time, creativity ᴬᴺᴰ cashflow kill*r.

TL;DR ✦ Watch tour! ⟶
*Manifest has entered the chat*
↓

Manifest is what happens when:
→ A Shopify designer of 10 years
→ Spends 100 hours
→ and $10k+ on external help
→ to design a dream theme 🟆♡
Done-for-you dev + Predesigned sections
So you can DIY ⟶ add branding and content following easy tutorials (or palm it off to a savvy graphic designer).
✓ Jaw-Dropping Design

Never leave the theme customiser if you don't want to. Powerful section options mean there's rarely a need to tip-toe inside the code files.
✓ No-Code "Magic Words"

Just add words to block like "floating" or "rotate" to add animations, "archShape" to add an image shape or "hideMobile" to... you guessed it!
✓ Emerging Trends, Built-In

Picking themes based on just 1 or 2 cool section designs? Nah. I know what people are asking for, so I've made *endless* layouts possible inside the customiser.
EXTENSIVE, NOT OVERWHELMING.
☞ The Notion doc organises everything clearly
☞ Listed in the order of priority, so it's easy for you to find stuff
☞ Most videos are under 10 minutes
☞ I'm not here to waste your precious time with BS ☻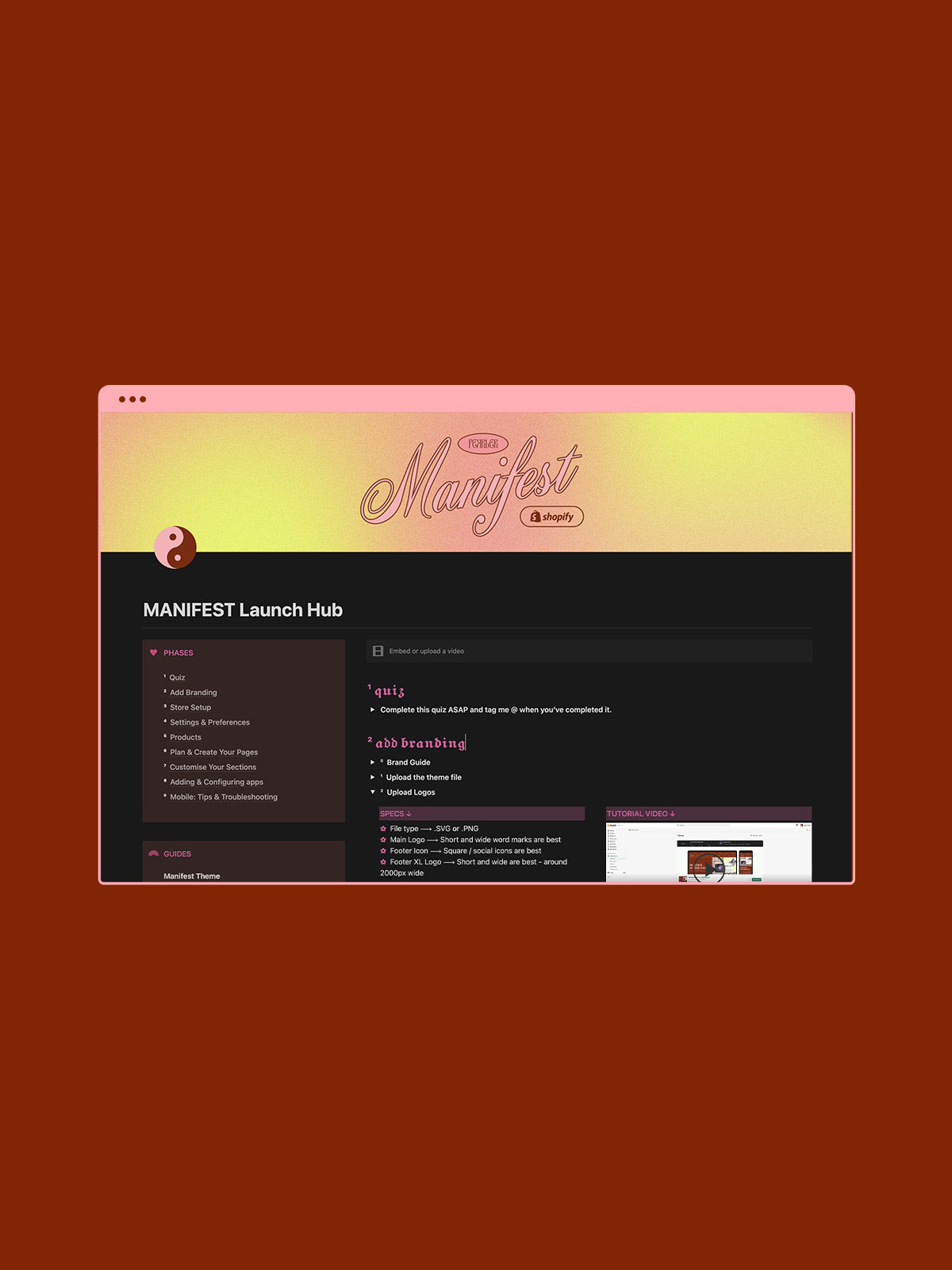 TUTORIALS THAT WON'T BORE YOU TO TEARS

✓  Visuals of all section designs
✓  Tutorials for each section
✓  Utilising no-code 'Magic Words'
✓  Ideal image specs
✓  Migrating to Shopify or from 1.0
✓  Considerations for re-theming
✓  Adding existing apps
✓  Troubleshooting mobile
✓  Optional tutorials in dev-speak
✓  My favourite apps & tools
✓  Basic store setup
☻  Plenty more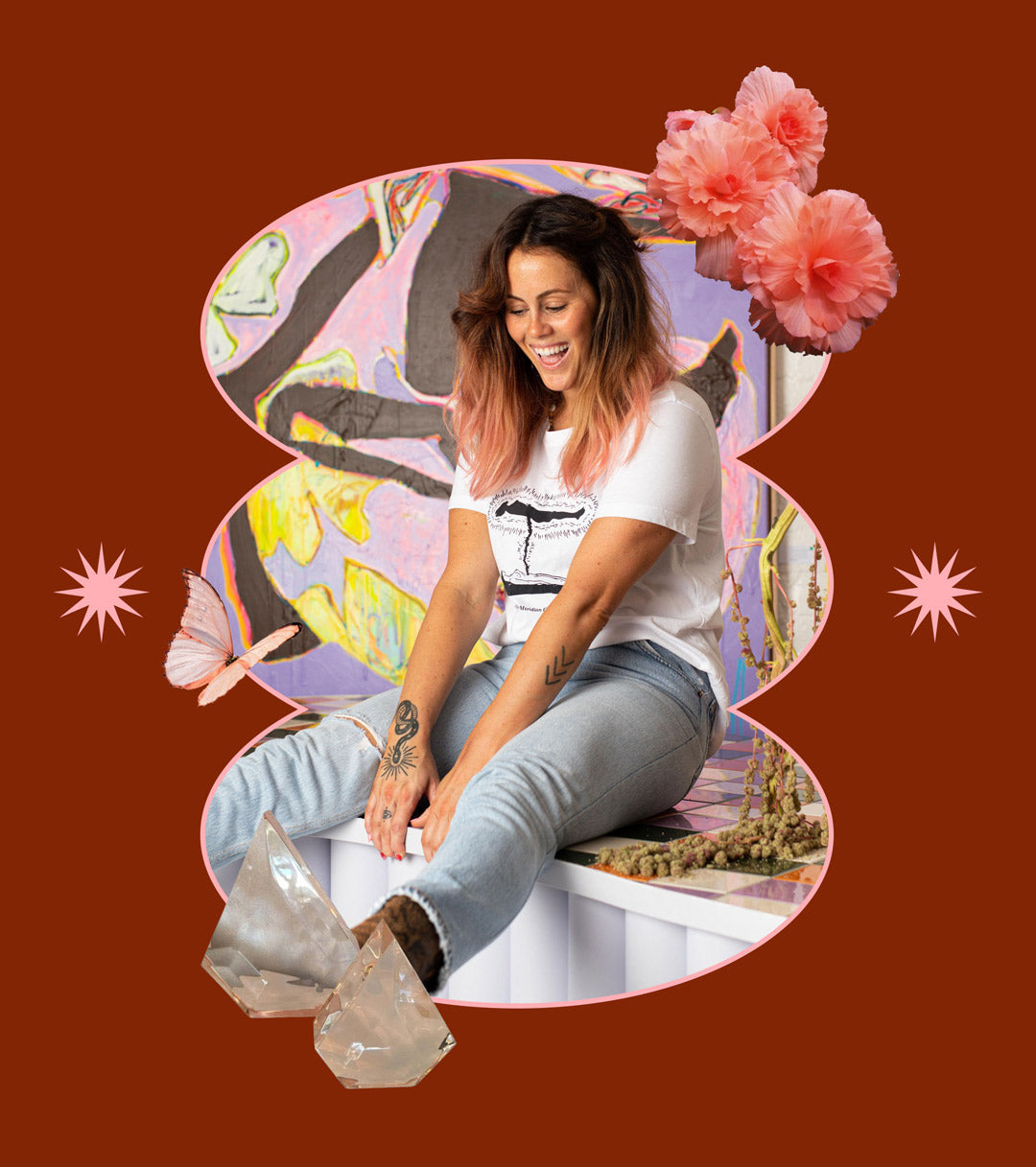 Anxiety-Bustin' Support

12 months +

Always remember, I'm here for you. I've done this lots of times and have a tonne o' knowledge ☻

Someone to ask questions to is something I would have given my left pinky for during all my years of builds - that's why this an integral part of my offer.
*Actually* learn

If you've ever bought one of my Squarespace templates, you'll know that I LOVE sending video replies to questions I get.

It just makes sense to share my screen and show you my troubleshooting. This way, you can learn visually and let the knowledge sink in.


More on me
Oh, also ☟
✓
Made by an OG Shopify Designer


So you don't need to fork out big 5 figure sums (cos not everyone is funded or a nepo baby).

✓
Shopify Angels to the rescue


You get access to my Rolodex of web, graphic and brand designers + developers.

✓
The antidote to overwhelm


A fab base to start from, path to follow and helping hands makes for a chill Shopify experience.

✓
Go live like, wayyy faster


Who has time for a 6 month build?? Nobody wants that. MANIFEST is all about clever shortcuts.
Feels right?
Make it yours.
More questions?
No drama! Just ask me in the widget in the bottom left of your screen ♡